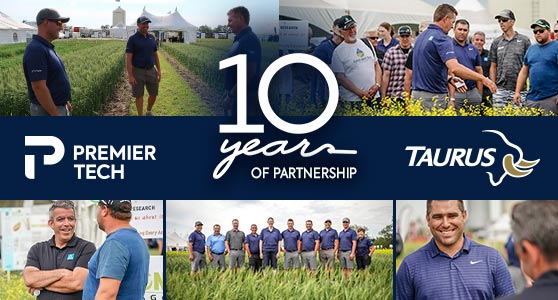 November 2021 - Premier Tech and Taurus Ag Marketing are celebrating 10 years of partnership in the Western Canadian agriculture marketplace and announce their agreement to continue their long-term partnership to ensure retailers and growers continue to benefit from the biological inoculant products, expertise and agronomic support both companies bring to the market.
Marc Béland, Senior Director of Agriculture Market at Premier Tech says: "We saw a good fit with Taurus back in 2011 when Premier Tech started investing in the Agriculture market, and now, 10 years later, the synergy between our teams continues to grow. Developing and bringing products to the market is just the first step. You also need a good team to educate, promote and support product usage with the different stakeholders to reach commercial success, and our partnership is a great example of that."
"There is a deep respect in our relationship with Premier Tech that has evolved over the years of our partnership." says Craig Davidson, President of Taurus Agricultural Marketing Inc. "We get to see the commitment it takes to find and foster innovation in the world of biologicals, and it takes a family company tremendous investment and long-term focus to see it through. All those admiral traits have been shown through over the years by PT and has aligned nicely with our core values at Taurus. We are excited to continue on our partnership in the coming years and look forward to continue to deliver value, sustainable solutions, and advanced biological innovations to today's progressive growers on behalf of Premier Tech in our market."
"It is truly an honour to have Craig and the Taurus team representing Premier Tech in the Agriculture market in Western Canada. The commitment they have shown over the years has been a major contributor in making AGTIV® the top brand in biological inoculants in that region. Thanks for your partnership Craig!" says Mark Murphy, President Premier Tech Growers and Consumers Professional Business Sector .
---
Taurus Agricultural Marketing simplifies the science and explains the benefits of introducing proven agronomic practices and products to farms. It provides growers with all the knowledge, information, and insights they need to take their crops and business to the next level. Taurus sources the most innovative and proven products while backing them with a solid, measurable, scientific approach to growth.
Premier Tech gives life to products and services that help feed, protect and improve our world, creating sustainable solutions that help increase crop yields and maximise crop potential. Backed by more than 35 years of expertise in biological active ingredients, Premier Tech masters a unique large-scale manufacturing process that meets the highest quality control standards, allowing growers to fully benefit from the highly effective inoculants of AGTIV® product line.